Call Early to Guarantee BEST time & day availability
(208) 681-5686

Get Directions Now-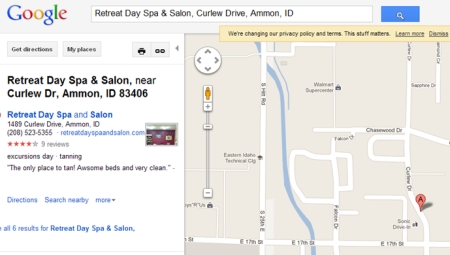 **For Awesome Waxing Coupon sign Up
at the bottom of this page
or click here**

Who Else Gives the
"Best" Body Waxing Experience
in Idaho Falls- Guaranteed?

Alot of Idaho Falls Body Waxing so-called
experts say they are the best...


I guess I would rather have
my clients do the talking for me
and share their results with their friends.

Body waxing should not be painful or uncomfortable.
I strive to put you at ease,
and make it as pleasant an experience as possible.

My business grows only by your personal satisfaction-
Top Quality Referrals with a great experience is my #1 priority!
-->So Time to put my money
where my mouth is...

I personally guarantee- your "Best" body waxing experience ever- or your next waxing service is FREE!

**Special Web Bonus- enter your name and email below and receive my special valuable discount coupon of 35% off your first body waxing service!
Top 10 Reasons To
Receive A Body Wax From Kara

1. No More Embarassing & Unsightly Hair
2. Lasts 10X's Longer Than Shaving
3. No More Irritaing Razor Burn
4. Maintain Better Personal Hygiene
5. No More Painful Ingrown Hairs
6. Preferred Hair Removal Method For Sensitive Skin
7. Builds Personal Confidence
8. Hair Grows Back Finer & Thinner
9. Smoother More Touchable Skin
10. Makes Hair Removal Possible For Hard To Reach Areas

**Don't Forget to sign-up
below for my 35% off your
first body waxing coupon!
What you should expect in a seasoned
Body Waxing Professional...

Guarantee- I will treat you with respect both professionally & ethically.

Guarantee- Your needs and concerns are my top concerns.

Guarantee- Explaining every step is crucial to deliverying your Best Idaho Falls Body Waxing Experience.

Guarantee- I let my quality training, years of experience and tons of testimonials speak for me.

Guarantee- Don't Gamble- Try my 35% First Time Waxing service Coupon convince you. What an awesome deal!

Guarantee- Enjoy your Best Idaho Falls brazilian, bikini, arms, legs, face or body waxing experience- or your next body waxing service is FREE!

I appreciate the kind words of just
some of my past clients...

I had never received a chest or back wax before because I thought waxing was only for women. I had also heard that it was extremely painful. Kara was quick to help me understand that men receive many benefits of body waxing also, so I decided to give it a try. I was surprised with Kara's technique how little it hurt. I LOVED the final results, and now I wax on a regular basis. Now I recomend Kara to all of my friends! Yency M.
I always thought it was suppose to burn and itch days after a full body waxing- After my consultation and waxing service with Kara
my whole attitude has changed about waxing... I would highly reccomend Kara if youre ready to be pampered by a true professional!
Brittany C.
If your tired of the unprofessional approaches and the negative reports about other day spas, call Kara today and receive the Best Waxing Experience- Ever! I did!
Courtney T.

Simple as 1 2 3 4...

Step 1. Enter your name and email below
in the sign up here box and follow the link to your In-box.
I don't like spam anymore than you do so make sure
to add me to your anti-spam list. If you don't see my link please
check your spam filter- a 35% discount will save you a bunch of money
Step 2. Confirm your email and re-check your In-box
to receive the link to your download!

Step 3. Download the simple PDF file to your computer
and print off the certificate and personal guarantee!. You
must present this special web offer when you call me to schedule your
appointment to receive the 35% discount.

Step 4. After you have printed out your certificate
call me using the phone number listed on the bottom of
the certificate and schedule your appointment today!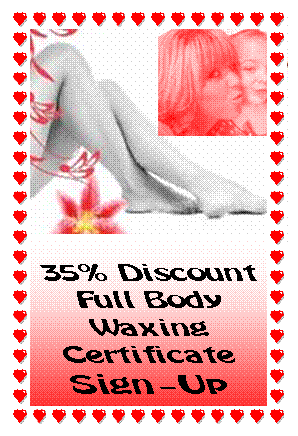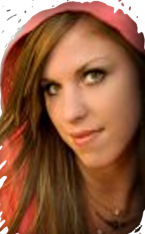 Enjoy your Best Idaho Falls brazilian,
bikini, arms, legs, face or body waxing
See ya soon- Karalee!
P.S. Please sign-up for your
free down-load and receive
a free 35% discount and guarantee
-if you have additional questions
or issues with the down-load click here

and feel free to call me at (208) 681-5686

P.S.S.

To see more on my
bio and awesome day-spa & salon

P.S.S.S Current Special of the month